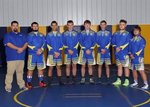 Varsity Wrestling
Southern Local Wrestling Team Rules
BE AT PRACTICE.
Wrestlers will be at practice every day practice is scheduled. During breaks wrestlers are expected to be at practice. Everyone has family obligations, including the coaches. The coaches come to practice, so should the wrestlers. Certain obligations and or illnesses are excusable. COMMUNICATE WITH YOUR COACHES. Missing practice without contacting coaches with an appropriate reason is considered an unexcused absence and will result in not participating in our next match. Four unexcused absences will result in dismissal from the program. Coach's discretion will be used on individual basis for unexcused circumstances.
INJURED WRESTLERS REPORT TO PRACTICE EVERY DAY. If you are hurt, you still come to practice. We will have something for you to do per the advice of the trainers.
SKIN DISEASES/INFECTIONS WILL BE REPORTED. Talk to coaches about skin questions.
GRADES ARE THE MOST IMPORTANT ISSUE. Refer to NRHS student handbook regarding eligibility issues. Academically ineligible wrestlers will be permitted to practice with the team if they would like to wrestle after 2nd nine weeks grades come out or if they would like to wrestle next year. If a wrestler wants to be able to be a part of the team they must adhere to ALL team rules.
BEHAVIOR AT SCHOOL will be more than acceptable by our wrestlers; It will be exemplary. Wrestlers should expect consequences when coaches receive reports of negative behaviors from teachers, administrators, or parents.
WRESTLE-OFFS will be conducted at the coaches' discretion. Wrestlers challenging for a position will notify coaching staff. Wrestlers will make weight within 4 pounds of Scratch weight in order to wrestle off that day. Wrestlers losing their wrestle-off are permitted to challenge at another weight provided they have made arrangements for this with the coaching staff.
WRESTLERS WILL MAKE WEIGHT FOR EVERY COMPETITION. Failure to make weight could result in a wrestler losing his spot.
WRESTLERS WILL NOT USE DRUGS OR ALCOHOL. Those in violation will be held accountable according to the student handbook and OHSAA guidelines.